The Configuration of Mconnect Rich Snippets Extension for Magento® 2 Extension:


To know how to install this extension, Refer below the video.
Before you proceed with using the extension, you need to do the configuration of the extension as shown below:   

1. Navigate to Store > Configuration > MConnect Media > Rich Snippets in your Magento® Admin Panel.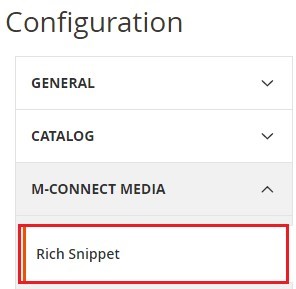 2. Settings Screen opens. Here you will be able to configure different rich snippets for your store. 

Enable Breadcrumb, Search box, Product Availability, and Pinterest Rich Pins Breadcrumb

Enable: Select yes to enable the breadcrumb for being displayed in search results to provide easy website navigation Search Box.
Enable: Enable or disable to show the search input box with your homepage in Google search results page.

Product Availability
 

Enable: Select yes to show the stock information of the products in Search results.

Pinterest Rich Pins

Enable: Choose Yes or no to display Rich Pins having more information of products attributes.

Organization: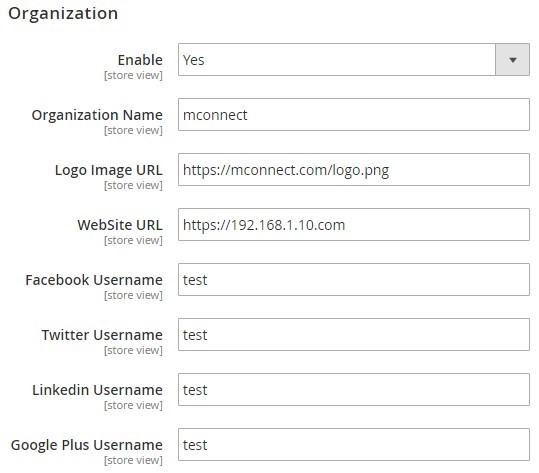 Enable: Select yes to show the description of your organization in Google search results.
Organization name: Mention your Organization's name here which will appear in the search results.
Logo Image URL: Keep the URL for your Logo image.
Website URL: add the URL of your website.
Social Media profile Username: You can also show the usernames of Facebook, Twitter, LinkedIn and Google plus accounts.

Show Sitename with the breadcrumb in Google Search results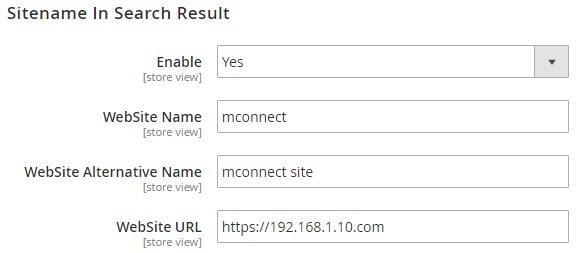 Enable: Select Yes to enable the display of Sitename with the breadcrumb.
Website name: Put your website name to show in Sitename.
Website Alternative name: You can also keep any alternative name of your website.
Website URL: Keep the URL for your Website to appear in the Sitename snippet.
Make people know about your Local Business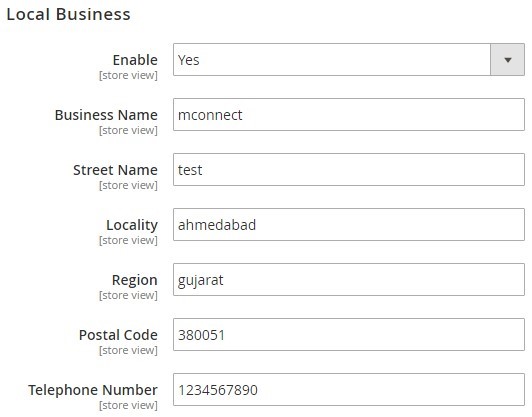 Enable: Enable or disable the display of information related to your local business.
Business name: Mention your business name which is popular
locally.
Address: Share the address of your local business including street name, locality, region and postal code.
Contact details: Mention the contact number in the given field to appear with the local business details.

Build a Twitter card to show more product details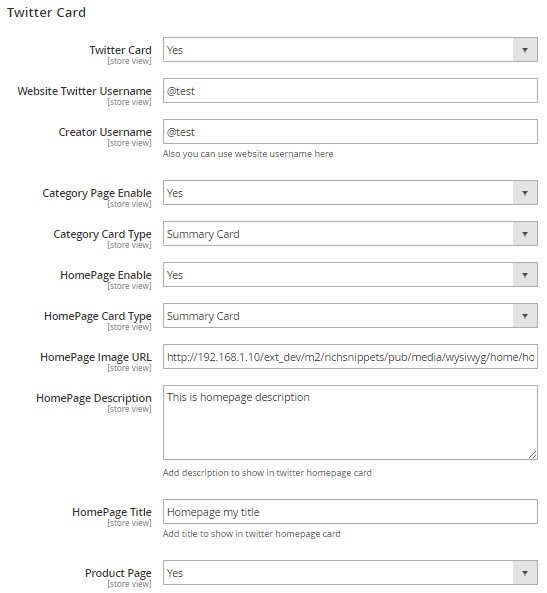 Twitter Card: Select yes to enable the visibility of Twitter cards for your products in your tweets.
Username: Mention the username of your twitter website and creator in the given fields.
Category Page enables: Enable or disable to show the category page details on twitter card.
Category Card type: select the card type for the category to display on twitter card. You can choose between Summary and summary with a large image.
Homepage Enable: select yes to enable the homepage details on the twitter card.
Homepage card type: Choose the card type as a summary or summary with a large image.
Homepage image URL: You can keep the Homepage image.
URL in this field to make it appear in the twitter card along with other details.
Homepage description: Write a description for your homepage in this field.
Homepage Title: Give a title to your homepage.
Product page: Choose yes or no to enable or disable the product page details on the twitter cards.
 
3. Click on 'Save Config' to save the configuration settings.