The Configuration of Mconnect Product Quick View Extension for Magento® 2 Extension:

To know how to install our extension visit our video section.

Before you proceed with using the extension, you need to do the configuration of the extension as shown below: 
 
1. Sign in to the Magento Extension Administrator Panel. 
2. Navigate to 'Stores' menu and select 'Configuration' menu. 
3. Scroll down in Configuration to find 'MConnect '. Click on 'Quick View'.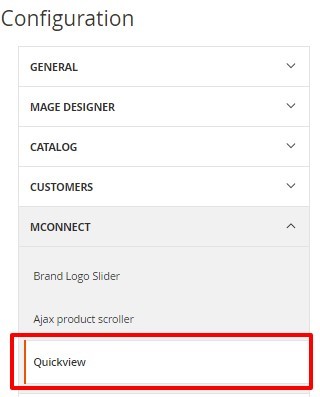 4. Settings Screen opens.  
 
General:
Enable or Disable this extension on your storefront.


 
 
Button Setting:
Perform the settings about which buttons to be displayed in the pop-up window.
QuickView Button Text: This option gives you the opportunity to customize the text for Quick View button appearing on the product image.
View More Button: Select Yes to enable the view more button on the pop-up. View More button allows you to check the product in details and it takes you to the product details page.
Enable Social Button: Hide or Show the Social button on the Quick
View pop up.
Enable Email Button: Enable or disable an Email button on the quick view pop up.
Enable Review Rating Summary: Hide or show review rating and summary on the pop-up window.
 
Product Information Setting:
Configure the Product information settings from this section.

Product Tabs: Enable or disable the product tabs on the pop-up.
Product SKUs: With this option, you can show or hide the SKUs of the product in quick view format.
Product Short Description: Select Yes to show short description about the product on the quick view pops up. You can enable to disable this option as per your convenience. 
5. You can save the configuration settings by pushing the 'Save Config' button.